The Malta Sustainability Forum (MSF) is once again taking up the topic of pensions for its second event of 2023, this time honing in on the inequities posed by the current system. The event, which forms part of the Sustain Tomorrow Today theme, is being held on 22 June at the Portamaso Suite, Hilton Malta.
The title of the conference "Confronting Pension Inequity: Unmasking the silent struggle" is a clear indication of the content. It will raise awareness on how certain groups are more likely to face financial difficulties, and a reduced standard of living and wellbeing upon retirement. It will also endeavour to come up with implementable solutions for a better future.
The National Statistics Office reported in June 2023, that last year, there were 85,797 people living below the poverty line, 16.7 per cent of the Maltese population – a decrease of 0.2 percentage points when compared with 2021. However, when analysed by age, there was an increase of 3.4 percentage points among persons aged 65 and over, meaning a third of this cohort.
Last year, inflation rose dramatically, in part due to the war in Ukraine, while the growth in population to nearly 520,000 has put pressure on the cost of properties, both of which dig into disposable income and make it harder for people to save for retirement.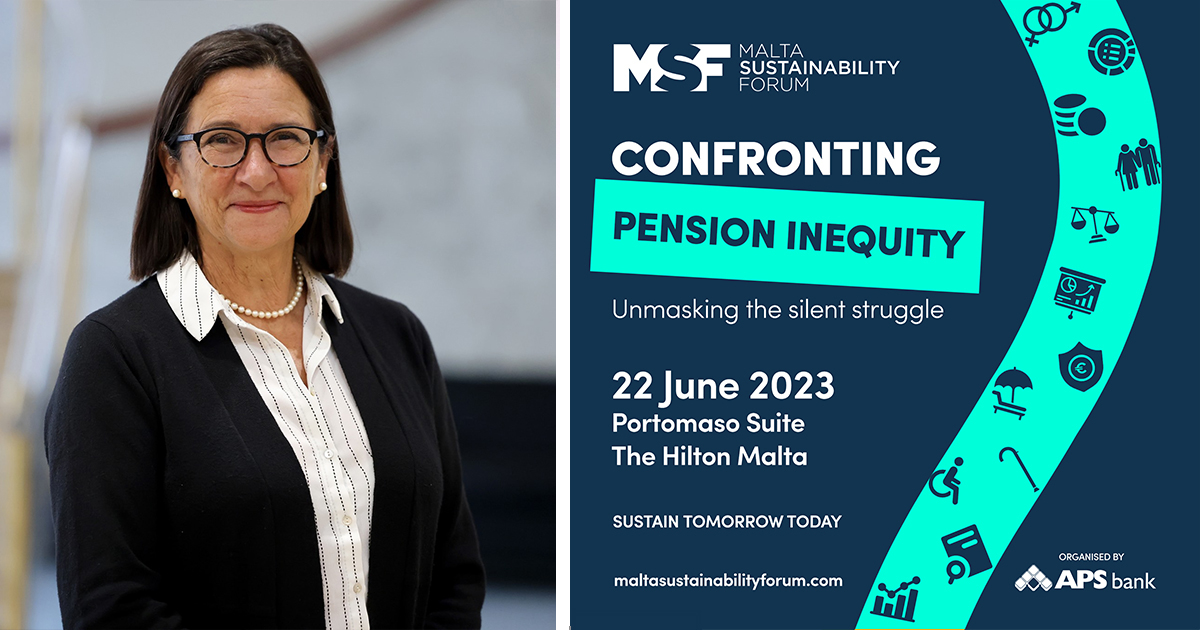 The Forum will feature the presentation of the results from the Pensions Engagement Survey 2023, which was commissioned by APS Bank. This survey, initially conducted in 2022, serves as an annual health check on several important metrics. These metrics include identifying the reasons behind procrastination, assessing knowledge levels regarding pensions and associated incentives (such as tax breaks), evaluating the adoption of occupational pensions, and gathering employers' perspectives. Additionally, the survey explores the potential impact of offering auto-enrolment in an occupational pension on recruitment and retention. It also delves into the understanding of voluntary occupational retirement pension schemes and examines employers' perceptions.
The conference will be addressed by local and EU experts and will start with keynote speeches by Minister for Social Policy and Children's Rights, Hon Michael Falzon and Helena Dalli, the European Commissioner for Equality. These will be followed by insight from the Central Bank of Malta on the impact of inflation on pensions.
The first panel, being moderated by former journalist Vanessa Macdonald, will address the inadequacy of state pensions and how it impacts certain groups more than others, particularly women, people with disability and migrants. Problems often arise from situations where people fall through the cracks in the pension 'safety net', especially when they find themselves in a legal limbo. Experts from Caritas Malta, the Jesuit Refugee Service (JRS) Malta, Business & Professional Women, Valletta Malta, the National Association of Pensioners will be joined by Samantha Pace Gasan, Commissioner for the Rights of Persons with Disabilities.
MSF will also showcase possible solutions through another panel discussion, to be moderated by Geoffrey Bezzina, Chairman of the Board of Management and Administration at the Office of the Arbiter for Financial Services. This will involve the Government as well as the private sector, a discussion which will build on the issues raised by the first panel. The former will be represented by Mark Musù, Permanent Secretary, Ministry for Social Policy and Children's Rights / Ministry for Social and Affordable Accommodation, as well as by Oliver Scicluna, CEO, Aġenzija Sapport. The latter will be represented by Kevin Rapinett, Member of the Council and Board of Management, Malta Chamber of Commerce, Enterprise and Industry, and David Spiteri Gingell, Former Chair, Pension Reform.
The session will conclude with a focus on what individuals can do to ensure better financial stability upon retirement, being presented by Junior Achievement CEO, Matthew Caruana.
In 2022, MSF had tackled this issue through a conference on the theme of "Bridging the Pension Gap", which highlighted the need for another reform of the pension system to ensure that people have an adequate income for their retirement. The Pensions Working Group, chaired by David Spiteri Gingell, was set up in June 2004, setting in motion a reform which raised the retirement age and introduced private pensions, among other things. However, by 2021 only 13,672 had taken up private personal pension schemes, and only 1,685 were enrolled in a voluntary occupational pension. During last year's conference, it was revealed that only 3% of employers said that they were enrolled in an occupational pension scheme.
The Malta Sustainability Forum was set up by APS Bank to highlight its commitment to sustainability.
Vanessa Macdonald, Conference Rapporteur