We can all be adopting more eco-friendly and sustainable habits and lifestyles for the sake of preserving our planet. It's easy to say that you will start being more responsible with the environment, but it can be a bit overwhelming to figure out where to start. Here are the 10 Best Books on Sustainable and Eco-Friendly Living to get you started on your sustainability journey. The below text has been prepared by Caio Berso and featured in UPJOURNEY. All products were independently selected by the editors and contributors of UPJOURNEY.
1. The Home Energy Diet: How to Save Money by Making Your House Energy-Smart By Paul Scheckel
This book covers how to be more energy-efficient and how to take control of energy usage in your home. Some of the energy-saving tips in this book can even lead to improved air quality in your home – something that directly relates to your own quality of life. Don't let that fool you into thinking that this will be a dry read – personal anecdotes and misadventures involving energy keep this guide to energy efficiency fun and engaging to read.
2. 101 Ways To Go Zero Waste By Kathryn Kellogg
Kathryn Kellogg is a living example that it's possible to really reduce our environmental footprint – she was able to significantly cut down the trash produced by her lifestyle so that two years' worth of garbage fit into a single jar. This book is filled with several tips ranging from DIY beauty products to eco-friendly shopping tips for your home. Perhaps, the most important thing to take away from this book is that, while you may not always make perfect decisions regarding sustainability, you can always give yourself a second chance to make things better.
3. Green Living For Dummies By Yvonne Jeffery, Liz Barclay, Michael Grosvenor
If you're looking for an easy read on how to live a greener lifestyle, look no further than Green Living for Dummies. This guide covers a little bit of everything when it comes to sustainability. Some of the topics this guide covers include how to make eco-friendly home improvements, how to eat locally and organically in order to reduce emissions and how to raise green kids so that the impact of living sustainably will last for generations.
4. Make Your Place: Affordable, Sustainable Nesting Skills By Raleigh Briggs
This charming hand-illustrated book by Raleigh Briggs is a useful resource for how to make non-toxic DIY household cleaners. In other words, products that aren't harmful to the environment and don't break the bank. In addition, it shows us a unique way to live a greener life – it shows us which herbs can help us with sicknesses (as opposed to solely buying pre-packaged medications.) This short read will surely teach you something new that'll help you on your journey towards a more sustainable lifestyle.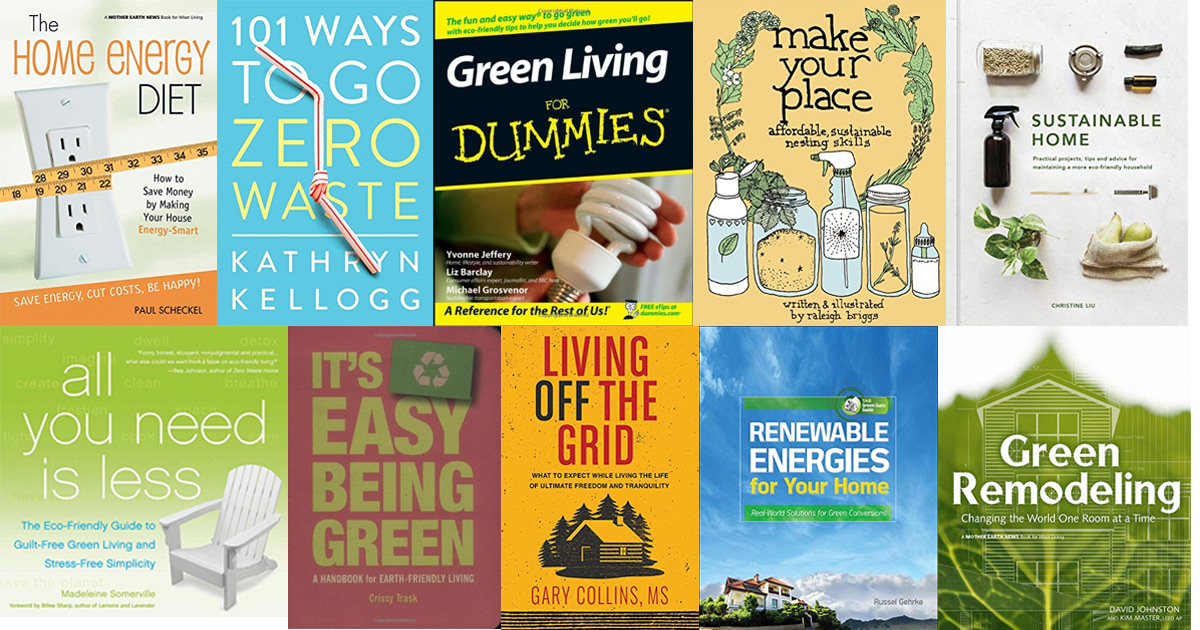 5. Sustainable Home: Practical projects, tips and advice for maintaining a more eco-friendly household By Christine Liu
In this book, Christine Liu takes you on a tour through your house and shows you step by step how you can make changes in each and every room of your house that will help your household become eco-friendlier. Tips include using natural light whenever possible or even making your own toothpaste. Whether you're looking for small changes or larger ones to your lifestyle, this book makes living a greener lifestyle accessible to just about anyone.
6. All You Need Is Less: The Eco-Friendly Guide to Guilt-Free Green Living and Stress-Free Simplicity By Madeleine Somerville
This book is all about realistic and manageable ways on how to adopt an eco-friendly lifestyle without shaming or guilting anybody. With tips for gardening, budgeting, laundry and even on how to make greener hygiene products like deodorant, this guide is as practical as it is simple and easy to read. Several people worry that adopting a greener lifestyle might equal adopting a more complicated life, but this book shows the exact opposite – living more sustainably can make your life a lot simpler.
7. It's Easy Being Green: A Handbook for Earth-Friendly Living By Crissy Trask
This book can help even the busiest people move towards sustainable living – not all tips for living a greener life are super time- or energy-consuming. In fact, a lot of these tips require minimal efforts. For example, getting rain barrels will help you save on water costs associated with watering your gardens and lawns. In addition, such changes will be nice to the environment. After all, you will need less power to water your plants.
8. Living Off the Grid: What to Expect While Living the Life of Ultimate Freedom and Tranquility By Gary Collins
For those of you who are ready to make a larger commitment to a more sustainable lifestyle, this book could be the perfect read for you. Living off the grid doesn't necessarily mean forgoing all the comforts that living on the grid provides you nor does it mean being socially isolated. This book will show you how practical it can be to go off-grid. This includes tips and ways to break down complex topics into easy-to-apply solutions from someone who lives off the grid successfully.
9. Renewable Energies for Your Home: Real-World Solutions for Green Conversions By Russel Gehrke
While living a greener life is something many of us would like to achieve, it can be somewhat cost-prohibitive. However, some things don't have to be all about money. This book focuses on practical home energy solutions that won't completely empty out your wallet. This book contains step-by-step instructions and illustrations that will show you how you can obtain wind or solar power for an affordable price or even for free.
10. Green Remodeling: Changing the World One Room at a Time By David Johnston
This book is a great resource for any homeowner who is unsure of where to start their eco-friendly lifestyle. "Green Remodeling" will present you to the benefits of remodeling your house (e.g. upgrading something as small as your toilet can lessen fossil fuel pollution), as well as what you can do in each room in order to minimize the amount of energy and resources used each day. Such home enhancements are a win-win game: They will benefit your finances and the environment, but also protect the health of those who live with you.
Source: Caio Bersot, The 10 Best Books on Sustainable and Eco-Friendly Living; 2021; https://upjourney.com/best-books-on-sustainable-and-eco-friendly-living [Accessed 17 June 2021].
The information contained herein is for general information purposes only. APS Bank plc will not be held responsible or liable in any manner for any of the information contained herein. While APS Bank plc has made every attempt to ensure that the information contained herein has been obtained from reliable sources, APS Bank plc will not be held responsible for any errors, omissions or inaccuracy, or for the results obtained from the use of this information. The primary purpose of these articles is to educate and inform. These articles do not constitute legal, medical or professional advice or service.