Who else loves dips? They are the perfect snack during the summer months, whether you are off for a sunset picnic at the beach, planning a BBQ or as a snack during the football matches. We have selected three very different vegan summer dips for you to enjoy whenever and wherever!
Spicy Baba Ganoush (Eggplant Dip) – with red pepper and sriracha, this appetizer is for you spicy food lovers!
Prep Time: 5 Minutes Cook Time: 10 Minutes
Ingredients
1 eggplant
1 1/2 tablespoons olive oil
2 cloves garlic
2 tablespoons tahini (sesame seed paste)
1 lemon, juiced
1/2 teaspoon salt
Top with:
More olive oil as needed
1/2 teaspoon red pepper flakes
sriracha, optional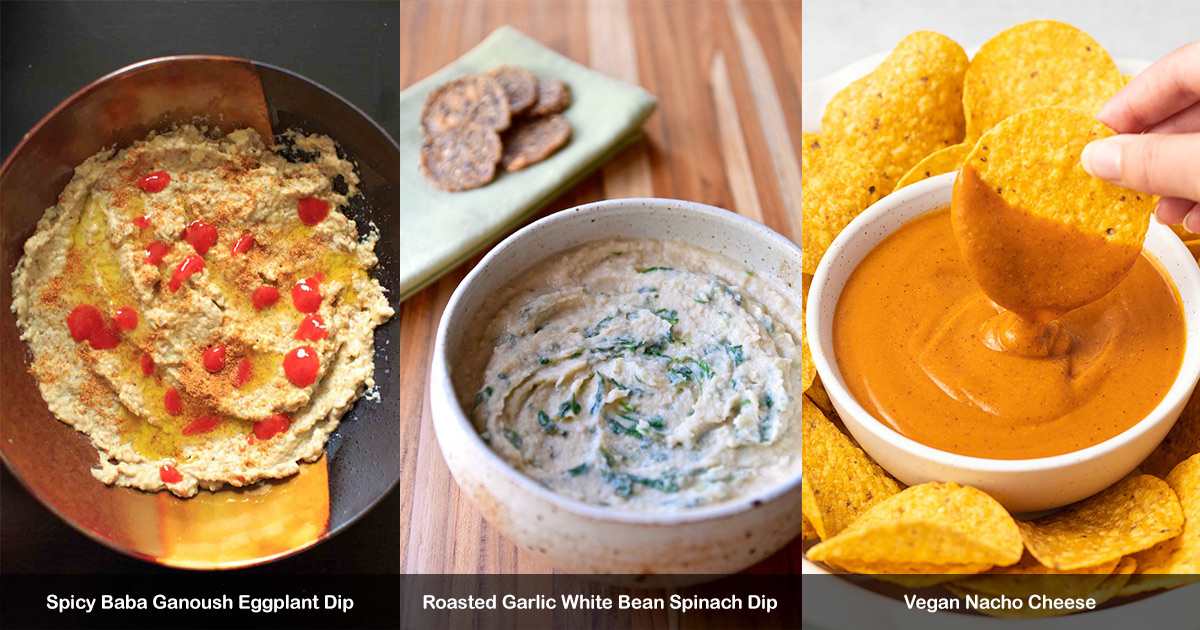 This roasted garlic white bean spinach dip is dairy free and packed with protein-rich, healthy ingredients, making it a great recipe for your upcoming summer parties. Just add Chardonnay!
Makes About 2 cups
Ingredients
1 head of garlic
3 + 1/2 tablespoons of extra virgin olive oil
1 – 15 oz can of white beans (Cannellini or butter beans), drained and rinsed
2 tablespoons fresh lemon juice
1/2 teaspoon cumin
1-1/2 cups fresh spinach
Salt and pepper to taste
Instructions
Preheat oven to 400. Slice off the top 1/4 of the garlic head, so that each clove is exposed. Drizzle the head, and in between the cloves, with 1/2 tablespoon of olive oil. Wrap in tinfoil and place in oven. Bake about 45 minutes or until the cloves are soft and easily removed by pinching from the bottom.
Place the beans, lemon juice and cumin in a food processor and blend until combined. Add the roasted garlic cloves and then slowly drizzle in the olive oil. Adjust until it's creamy, but not too thin. Season generously with salt and sprinkle with pepper.
Place the spinach in a steamer basket over boiling water and allow to wilt, about 3-5 minutes. Cool the spinach and then squeeze the excess water, ensuring to dry thoroughly. Coarsely chop the spinach.
Stir the spinach into the garlic white bean dip and serve immediately or refrigerate and enjoy for the next few days.
Cheesy, creamy, a little spicy, full of flavor – this vegan nacho cheese is killing it. Plus, it's healthy and free of artificial ingredients.
Prep Time: 10 mins Cook Time: 20 mins
Servings: 12 (2 ½ cups)
Ingredients
1¼ cup potatoes – peeled and cubed
⅔ cup carrots – peeled and cubed
1¼ cup plant-based milk – plain, unsweetened
¼ cup nutritional yeast
1 tablespoon lime juice
1 tablespoon tomato paste
3 teaspoons cornstarch – or arrowroot powder
2 teaspoons chili powder
1 teaspoon garlic powder
1 teaspoon onion powder
½ teaspoon paprika
½ teaspoon cumin
½ teaspoon salt – or more to taste
⅛ teaspoon cayenne pepper – optional, for extra spice
Instructions
Add potatoes and carrots to a pot of water. Bring to a boil, and let boil for 10 minutes, or until potatoes and carrots are soft. Strain and add to a blender.
Add all remaining ingredients to the blender and blend until super creamy and smooth.
Pour the nacho cheese into a pot and heat on medium-low heat until it starts to bubble. This will activate the cornstarch and help thicken the nacho cheese.
Serve warm with your favorite chips!
If you would like to discover some more delicious vegan summer dips check out the recipes on this site.
Karissa, 22 Scrumptious Vegan Dip Recipes; 2020; www.karissasvegankitchen.com/scrumptious-vegan-dip-recipes [Accessed 17 June 2021].
The information contained herein is for general information purposes only. APS Bank plc will not be held responsible or liable in any manner for any of the information contained herein. While APS Bank plc has made every attempt to ensure that the information contained herein has been obtained from reliable sources, APS Bank plc will not be held responsible for any errors, omissions or inaccuracy, or for the results obtained from the use of this information. The primary purpose of these articles is to educate and inform. These articles do not constitute legal, medical or professional advice or service.