Get your empty tin cans and paint brushes ready because we're going to transform them into Halloween candle holders and a game of bowling. Here are 2 fun things to do to celebrate Halloween! These are easy, cute and quick. Are you ready? Have a safe and happy Halloween!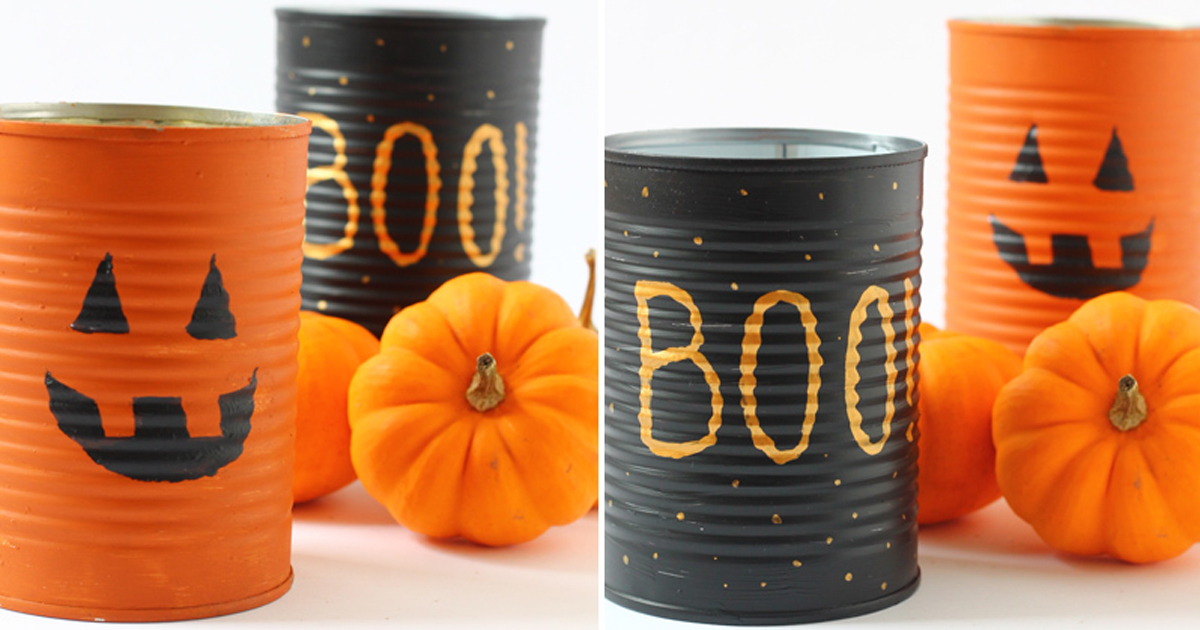 Halloween Candle Holders
These candle holders are a fantastic decoration to put on your windowsill or a centre piece in your house. They are easy, adorable, and quick to make.
You will need:
Empty tin cans, clean and dry
Acrylic paint and brush (spray paint optional)
Black and Gold markers
Tea light candles
Instructions
:
Start by painting your tin can. Acrylic paint or spray paint can be used. When you're done painting, set the can upright on newspaper to dry. If you're in a hurry, you may speed up the drying process by using a hair dryer on a low setting.
Draw and fill up your design with a marker. Do not to push too hard or the paint may come off. If this happens, you may perform touch-ups with a paint brush or just use paint instead of the marker. If you want to make anything more detailed, lightly sketch out your design with a pencil, then go over it with the marker or paint.
Light a candle inside and enjoy!
If you want to take it one step further, you can also punch some holes to form a pattern (like a bat or pumpkin) for light to come out. Here is another craft idea we had shared a few months back which you can refer to.
Note: The candle holder can get hot when the candle has been lit for a while, so be aware and make sure it is in a safe space out of children's reach.
Bowling
You can also turn your decorated tin cans into a game of bowling!
Simply decorate 10 cans with different Halloween related designs. Bowl a tennis ball and see how many you manage to knock over!
To make it even more fun, fill them with candy or a surprise and for each can knocked over the children can claim their gifts.

Are you ready to have fun and celebrate Halloween?
Sources:
Rutley, 2015, DIY Halloween tin can candle holder, https://www.used.ca/diy-halloween-tin-can-candle-holder/ [Accessed 15 October 2021]
Woodley, 2014, Halloween Party Activity: Tin Can Bowling, https://blog.partydelights.co.uk/halloween-party-activity-tin-can-bowling/ [Accessed 15 October 2021]
The information contained herein is for general information purposes only. APS Bank plc will not be held responsible or liable in any manner for any of the information contained herein. While APS Bank plc has made every attempt to ensure that the information contained herein has been obtained from reliable sources, APS Bank plc will not be held responsible for any errors, omissions or inaccuracy, or for the results obtained from the use of this information. The primary purpose of these articles is to educate and inform. These articles do not constitute legal, medical or professional advice or service.