Plastic bags might be convenient and readily available, but certainly not environmentally friendly. As countries begin to ban single use plastics, it is time to consider
more sustainable options
that will help save the planet (and your wallet, in the long run). Here are some eco-friendly alternatives to plastic bags.
Reusable tote bag
Nothing as efficient as a simple reusable cotton tote bag. You can find them in many different shapes, colours and sizes and even ones with sleeves for bottles and jars, keeping them in place while you commute. You can keep your tote bags in your car, backpack, or purse so they are always handy!
Silicone bags
They are a perfect alternative for grocery store plastic bags. Purchase extra-large ones so that they can hold full-sized produce.
Silicone stretchable lids or bee's wrap
Instead of using plastic wrap on leftover bowls, you can keep your food fresh and protected with a silicone stretch lid. You can also purchase bee's wax and jojoba oil-covered cloths, designed to wrap leftovers like cheese or fruits, and be reused for over a year with appropriate care.
Reusable cloth produce bags
Using a natural and reusable produce bag, you can keep your food fresh for several days. They are a more environmentally friendly alternative to single-use supermarket bags. You may slip them inside your tote bag for supermarket trips to ensure you have them when you need them!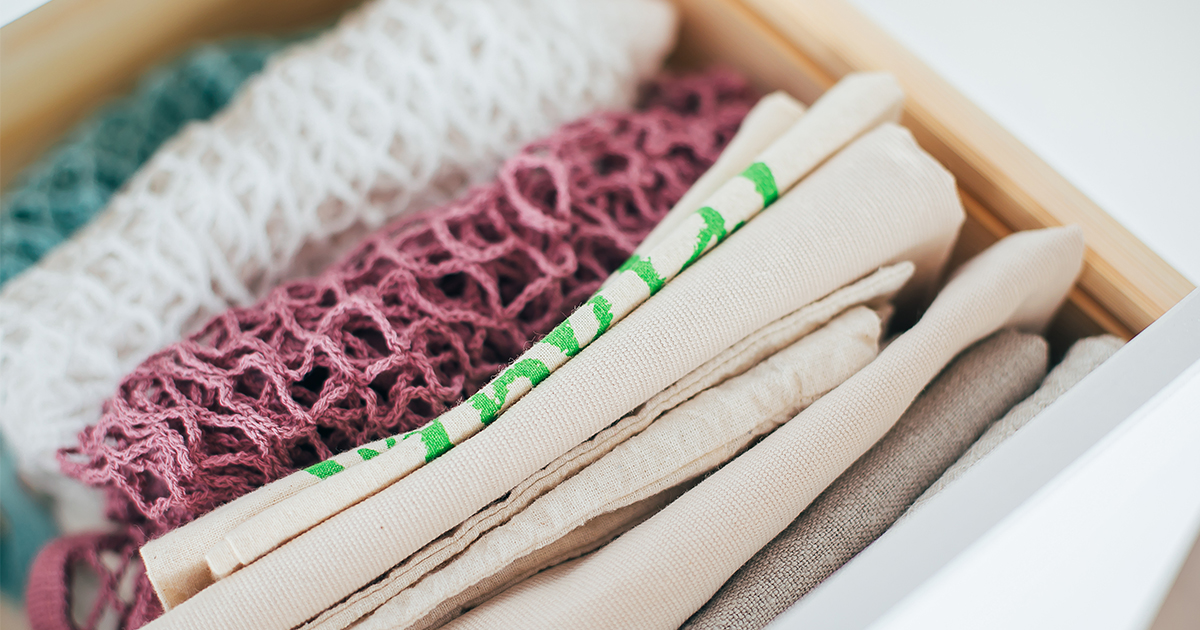 Linen bread bags
They will keep your crusty loaf of bread fresh better and longer than paper or plastic. And they are way more stylish.
Mesh bag
They are an excellent alternative to plastic, can hold most types of produce safely, and are incredibly fashionable. You can also easily
make your own
with an old t-shirt!
Jute bag
Again, a fashionable and eco-friendly item. They are strong, inexpensive, widely available, and you can just as easily take one to work, to the store or to the beach.
Cardboard Box
If you forgot to take your grocery bags with you to the grocery store, look around for cardboard boxes, there are usually a few hanging around. Once you are done you can easily reuse and recycle.
Mason jar
If your kitchen cupboards and fridge are full of plastic bags, mason jars are an excellent alternative to store your food. They will allow you to keep your food fresh and can be washed and reused for as long as you need.
Planet-friendly poop bags for dogs and cats
Dog and cat owners often rely on plastic bags to clean up after poop. Trade these for biodegradable poop bags that will not hurt the planet! Now it's your turn to say no to single-use plastic and hello to the
eco-friendly alternatives to plastic bags
!
Sources:
Pena and Nims, 2020, 12 Sustainable Alternatives To Plastic Bags That Are Just As Easy To Use, https://www.huffingtonpost.co.uk/entry/sustainable-alternatives-to-plastic-bags_n_5a732a7de4b0bf6e6e225ee0, [Accessed 15 October 2021]
Evans, 2020, 10 Eco-friendly Alternatives to Plastic Bags, https://nimvo.com/eco-friendly-alternatives-to-plastic-bags, [Accessed 15 October 2021]
The information contained herein is for general information purposes only. APS Bank plc will not be held responsible or liable in any manner for any of the information contained herein. While APS Bank plc has made every attempt to ensure that the information contained herein has been obtained from reliable sources, APS Bank plc will not be held responsible for any errors, omissions or inaccuracy, or for the results obtained from the use of this information. The primary purpose of these articles is to educate and inform. These articles do not constitute legal, medical or professional advice or service.