Luca Caruso, Perit and Research Support Officer at Department of Environmental Design was a speaker at the Malta Sustainability Forum. He is part of the organising team of an upcoming event, RESTORE Training School: Regenerative Buildings, happening at Valletta Campus, University of Malta between 11-15 October 2021. We are taking this opportunity to get to know more about regenerative design and how this ties in with sustainability.
Can you explain what regenerative design is?
Building are not sculpture monolith disconnected from a wider network that is the city. Urban forms have their own dynamics that is to say, how buildings relate each other another, their proximity to open spaces, their interaction with the surrounding undeveloped areas (mainly agricultural) and the infrastructures belowground.
Buildings are seldom isolated facts. When designing, building, operating and demolishing them if we think in that way we are ignoring the laws that are bonding the man-made environment with natural environment.
Instead, buildings need to be conceived like living bodies part of the (local) urban and worldwide ecological ecosystem.
To this regard Regenerative sustainability is an evolution of the sustainability principles based on resource-efficiency (Water and Energy conservation, Waste reduction) as we currently know them and apply. Regenerative Sustainability is referring to more advanced ecological perspectives and it is addressing the human-centric side to the design and operation of our buildings (and cities).
Besides the Energy, Water and Waste efficiency. This topic has a solid scientific background, with bonds spanning from biophilia, indoor acoustic, thermal and lighting comfort to indoor air quality. The concept of comfort is also a subjective multisensorial experience. You may have heard the growing interest in health and wellbeing across all sectors. Since we spend 90% of our life indoors this is worth more attention, and at the unfortunately the outcomes relates to human behaviour and performance an area of knowledge that is least understood by most professionals.
On top of that, these subjective concepts are strongly related to the new Bauhaus Initiative, a new strategy from EU commission, where the future of our built environment is situated at the crossroads between art, culture, social inclusion, science and technology rather than a mere technical target.
The recent IPCC Report to Policymakers is reinstating the necessity to act fast to mitigate and adapt the detrimental effects of Climate Change. Another recent report from UNEP states that in G7 countries, material efficiency strategy could reduce the direct GHG emissions up to 50% and 60% indirect coming from buildings sector by 2050 (United Nations Environment Programme, 2020). Energy efficiency in building renovation as well as tackling Energy Poverty is a priority for EU and local Authorities because this could lead to an estimate 160000 new green jobs by focusing on 35 million obsolete buildings both public and private.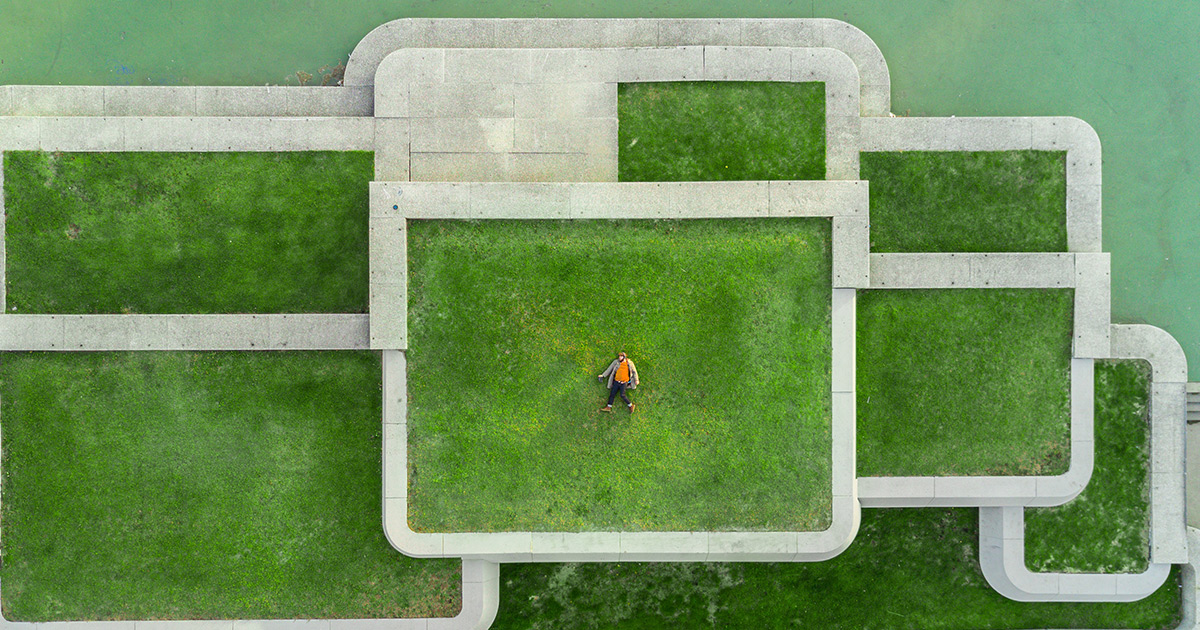 How can sustainability be integrated better into the design of building?
We have many proves to say that buildings are too expensive to be built cheap. Quality pays in the long term. Sustainability equates to quality. Several success stories are showing that the greatest difference between a conventional project and a project with embedded sustainability features can be found in the predesign phase because all the stakeholder involved have to go through a complex process of negotiations, carried out in a integrated manner, so as to understand that the building owner's sustainability agenda is aligned with all the parties involved.
We need to overcome the 'Silo mentality' of the construction industry, that means refusing to share important team knowledge between them or with other team members. This is one of the reasons why this industry is lacking in innovation as well as productivity (The Economist, 2017).
In 2007, United Kingdom's Office of Government Commerce estimated that savings of up to 30% in the cost of construction can be achieved where integrated teams promote continuous improvement over a series of construction projects. UKOGC further estimates that single projects employing integrated supply teams can achieve savings of 2-10% in the cost of construction.
However, a recent survey by Gerada was looking for identifying the priorities of Maltese professional demonstrated that in building construction the utmost importance (72%) is given to functionality, 20% Aesthetic design, and only the remaining 8 % for tenants experience and environmental features. No interest is given to introduce Green Building features.
Similar responses came from Contractors. I am positive because we need to remember that these are just surveys illustrating a general trend. I am sure there are a lot of experts discussing with clients the need of going beyond the traditional building construction techniques and the benefit for going green to the betterment of the final users.
What impact does indoor buildings have on us as individuals?
Churchill used to say: We shape buildings and ultimately, they shape us.
I will give some data. We spend 90% of our life indoors.
Let's look at the offices for example. Office design impacts the health, wellbeing and productivity of its occupants. For many readers, that will sound so obvious it almost goes without saying. Staff costs, including salaries and benefits, typically account for about 90% of a business' operating costs (just 10% for example). It follows that the productivity of staff, or anything that impacts their ability to be productive, should be a major concern for any organisation.
Furthermore, our understanding of the health, wellbeing and productivity implications of office design is deepening, aided by advances in technologies, academic researches and a growing awareness amongst a small number of enlightened developers, owners and tenants. For instance, it is increasingly clear that there is a difference between office environments that are simply not harmful – i.e. the absence of 'bad' – and environments that positively encourage health and wellbeing, and stimulate productivity.
But it does need saying, loud and clear, because this evidence has not yet had a major influence on the mainstream real estate sector, and is not yet translating at scale into design, finance and leasing decisions, certainly not in all parts of the globe.
The Sick Building Syndrome is internationally recognised by the World Health Organisation since 2006. Workers productivity is affected by indoor environmental conditions and thus the company profit.
With regards to residential sector, in Southern Europe where most of the taxpayers own a house discovering that your new/refurbished house in not comfortable as you expected is very upsetting. The household expenditures are proportional to that. In Malta, the local National Statistics Office published in 2019 a report estimating that 7.6% household are not able to heat their house (due to Energy Poverty, poor construction methods and inefficient systems).
Can you let us know more about the event being organised?
From the 11th till the 14th October training school will be hosted at UM's Old University Building where during the morning trainees will receive education while after lunch, they will be gathered in multidisciplinary groups of architects and engineers, both student and professionals, they will develop a feasibility study based on an assigned real case scenario.
Attendees will be introduced to the current the state-of-the-art researches about Indoor Environmental Quality (Air Quality, Thermal, Acoustic, and (Day)Lighting comfort) and the business case for health and wellbeing as a result of a 4-year Horizon funded project RESTORE.
The workshop outcomes will be a set of proposals from the working groups gathered in teams with the aim of delivering scenarios of designing indoor environments that enhances health and wellbeing.
The existing and proposed design will be assessed through the Principles and KPI leant during the morning. Indeed, they should try to show if we can implement these new features to demonstrate that work environments can mitigate indoor air pollutants, can encourage physical activity, and can promote interaction between co-workers. Air quality, levels of physical activity, and social bonds all contribute to physical and mental health, as well as overall feelings of happiness and satisfaction. Put simply, positive changes in the workplace the environment can yield improved health outcomes for employees.
During the 15th of October a one-day seminar, open to everyone, we will introduce the concept of Regenerative Buildings to a wider non-technical audience and the results of the 4year Horizon funded RESTORE project.
During a round table between Restore Trainers and Local Experts, a gap analysis will be carried out to see which is Malta's standpoint in terms of indoor environmental Quality policies aiming at supporting decision-makers through the seminar proceedings. As a result of the 4-day training school, the project proposals will be then evaluated through our jury and then the best project awarded a prize.
Gap Analysis results and projects will be published in local and international magazine as part of the overall proceedings at the end of the workshop.
Who is the event targeted at and how can people apply to attend?
The workshop is open to Master Students, M.Sc. graduates and professionals in the fields of architecture and engineering (up to 45 years old). The seminar is open to anyone interested in attending (see participation fees details https://www.um.edu.mt/events/regenerativespaces2021/registration). Registration till 4 October.
If you would like to learn more about the work Luca does with MEDmeUP please check out the Pitching for GOOD video from the Malta Sustainability Forum.