Who doesn't love a BBQ? Have you ever thought how you could be sustainable when having a BBQ? Here are some alternative things you should think about before your next BBQ to make it more sustainable, less wasteful and enjoyable without a guilty conscience.
A good grill
Don't use single-use barbecues made of aluminium! Instead, invest in a high-quality charcoal, electric or solar grill. Or you can ask around and borrow one if it is not going to be used frequently.  Gas grills are not an eco-friendly option as gas is not a renewable resource.
Fuel to the fire
If you'll be using charcoal, try look for sustainably sourced brands. A lot of the charcoal readily available is made from unsustainable wood as it is very likely to be imported and has chemicals added to burn better. The best option is to choose charcoal briquettes that are labelled with the origin and type of wood (try pick native species, such as beech in Europe). Additionally, look for FSC or PEFC labels on the packaging to assure sustainable forest management.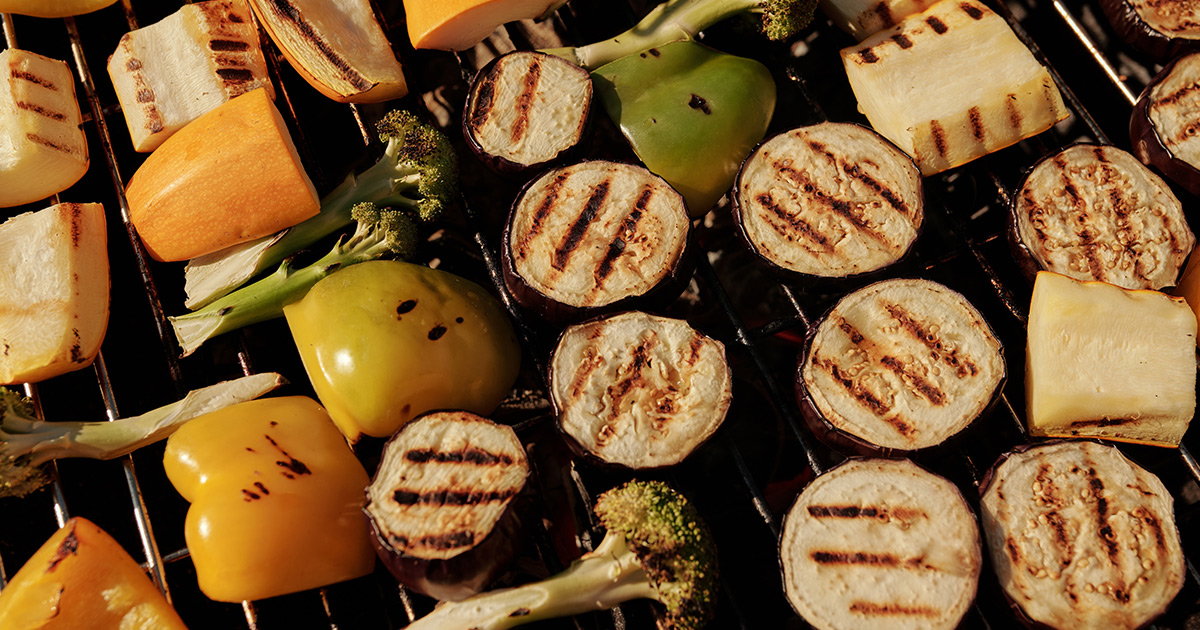 Sustainable BBQ lighter
Look out for chemical-free alternatives, even plant-based options with FSC labels. You can use wood fibres soaked in wax or add split wood and brown cardboard and you have your eco-friendly firelighter!
Forget plastic
Reusable cutlery, plates and cups is what you need! You can find nice cutlery-sets in charity shops and second-hand stores. Also, cloth napkins or at least napkins made of recycled paper need to be part of your waste-less BBQ. Avoid aluminium trays and foil wherever you can as their production process is very resource intense.
More vegetables, less meat
The meat industry is a major contributor of CO2 emissions, so a veg-based BBQ is the more sustainable choice. Grilled veggies are a great plant-based alternative, you can enjoy charred asparagus, grilled courgettes or stuffed portobello mushrooms. You can also make your own veggie burgers. However, if you're still going to grill meats or fish, simply try eating less of it and choose lower-impact meats, pay attention to its origin, and opt for organic production.
Side dishes and dessert
Salad, sauces, bread… Whatever you like to eat as a side dish, look for package-free and seasonal alternatives. As for dessert, you have to try grilled fruits such as bananas filled with chocolate!
Leftovers
Don't forget to keep the leftovers of your sustainable BBQ and store them correctly in your fridge! You'll be happy to savour them later.
Now that you know everything on how to be sustainable when having a BBQ, do your best and most importantly, have fun!
Sources: https://eco-age.com/resources/bbq-season-sustainably/
https://www.farmdrop.com/blog/how-to-have-an-ethical-barbecue
https://thegreenwalnuts.com/en/how-to-have-a-sustainable-barbecue/
[Accessed 6 August 2021].
The information contained herein is for general information purposes only. APS Bank plc will not be held responsible or liable in any manner for any of the information contained herein. While APS Bank plc has made every attempt to ensure that the information contained herein has been obtained from reliable sources, APS Bank plc will not be held responsible for any errors, omissions or inaccuracy, or for the results obtained from the use of this information. The primary purpose of these articles is to educate and inform. These articles do not constitute legal, medical or professional advice or service.