Vladislav Kaim, UN Secretary General's Youth Advisor on Climate Change, will be one of over 80 participants in this year's Malta Sustainability Forum, sitting on a panel targeting the youth, titled Proposals for a Better Future.
The theme of this year's Malta Sustainability Form (MSF) is The Time is Now and will highlight the need to take immediate action to reach the 17 Sustainable Development Goals (SDGs) by 2030 as outlined by the UN. At the forefront of this worldwide effort to transition to a more sustainable future are the youth.
At 25 years of age, Moldovan Vladislav Kaim will be one of the youngest participants in this year's edition of the MSF. A graduate in International Economics from Moscow State University of International Relations, he is currently reading for Master's degree in Economics at Sweden's Lund University and has been involved in youth sustainability work globally for six years. Following a rigorous selection process, he was recently appointed by the UN Secretary General to be part of the first Youth Advisory Group (YAG) on Climate Change.
YAG is a group of seven young people representing different regional and professional backgrounds. They will be the voice of the younger generations in high-level decision making while also advising the UN Secretary General on the implementation of his 2020/21 Climate Change Strategy. "We, as YAG members, want to point out that although youth are viewed as 'the future', we are already the present, especially with regards to the climate and sustainability agenda," he says. "If you really want to hear us, anything other than a treatment on an equal professional footing is unacceptable."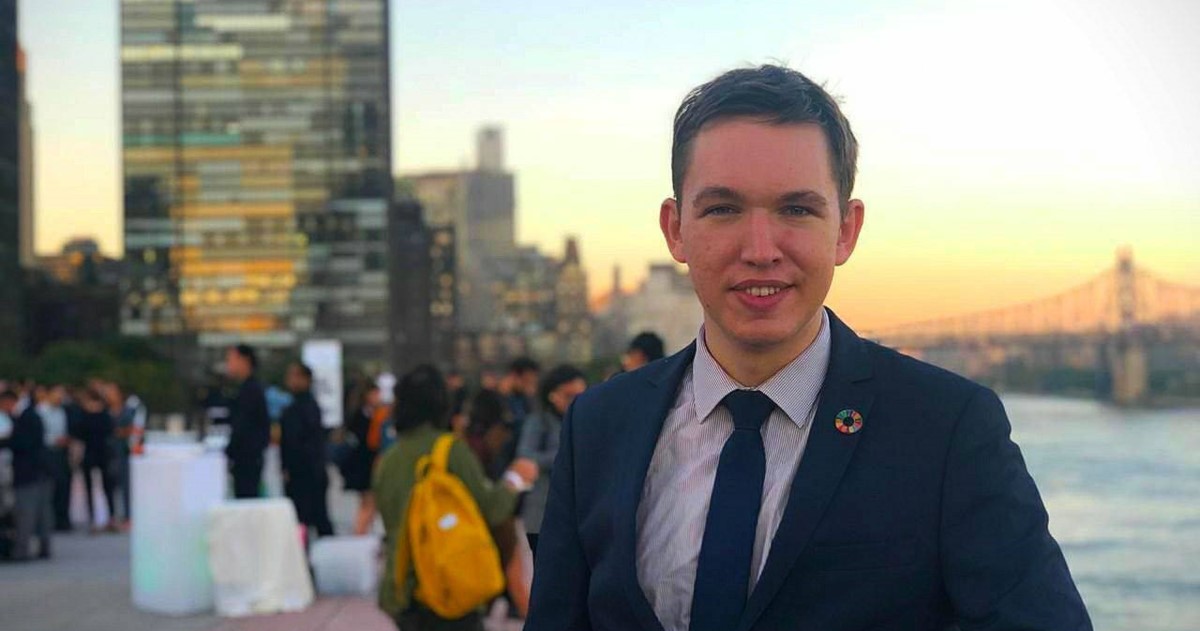 In Kaim's opinion, youth are not just doing their part, but are leading the global transition towards sustainability, even though they represent the generation with the least resources to their name. "More and more youth are waking up to the problem and acting accordingly," he says. "Our task as members of YAG is to convey this to the global leaders in no uncertain terms." Although the focus is often on what each individual can do to help make the shift, Kaim believes that doing so while ignoring the fact that 100 corporations are responsible for 71% of global emissions would be a gross mistake. "With all the lockdowns in 2020, global emissions were reduced by 7%, nowhere near enough compared to what we need to avoid a climate disaster. This means that focus should remain on systemic transformations, which are more than the sum of their parts."
On a positive note, climate science has slowly gained more trust, even though many don't believe anything can be done about the crisis. "That's why, even five years after the Paris Agreement, emissions keep rising and many governments in the G20 still get off the hook for not doing their part," says Kaim. "However, the tides are clearly changing. Many major economies pledged carbon neutrality by 2050 or 2060 and many others have upped their climate ambition in their Nationally Determined Contributions to the Paris Agreement. Cumulatively, they are still not enough, but 2020 shows that nothing in climate policy should be assumed as pre-determined."
Kaim believes that the Maltese government is well-positioned to move the country towards SDGs set by the UN. "The Maltese government voted to adopt the Agenda 2030, so there is a clear responsibility on their side," he says. "I want to reiterate that the race towards achieving the SDGs requires systemic transformations and the onus is clearly on the authorities. But the efficacy of said systemic effort hinges on a vibrant, committed and empowered civil society."
The Malta Sustainability Forum will provide a platform where important connections are bound to be made, notwithstanding the challenges brought about by the global pandemic. "I hope that these connections will create positive synergies that transform talk into action and will create bonds that are beneficial for Malta's sustainable future," Kaim says. "I also hope that the Forum will showcase the role of youth as equal partners in the process of transforming Malta."
Kaim himself will be spending 2021 advocating for COVID stimulus packages that prioritise climate action as a sensible investment in national wealth, focussing on the creation of green jobs for the youth hit hard by the pandemic and climate crises.
Join us for the Malta Sustainability Forum 2021: Online Edition! REGISTER NOW