TAPP Water home water filters are the only sustainable water filters available in Malta.
Launched in 2018 and now distributed in over 30 countries, the TAPP Water filter system is independently tested to work effectively on Malta public supply water so that you can drink great tasting, healthy filtered water directly from your kitchen mixer.
TAPP removes 80+ contaminants from the water, and each refill lasts 3 months. The TAPP water filter refills reuse a plastic casing to minimise the amount of waste created and the filter itself has 5 stages of water filtration at the core of which is an activated carbon block made of renewable coconut.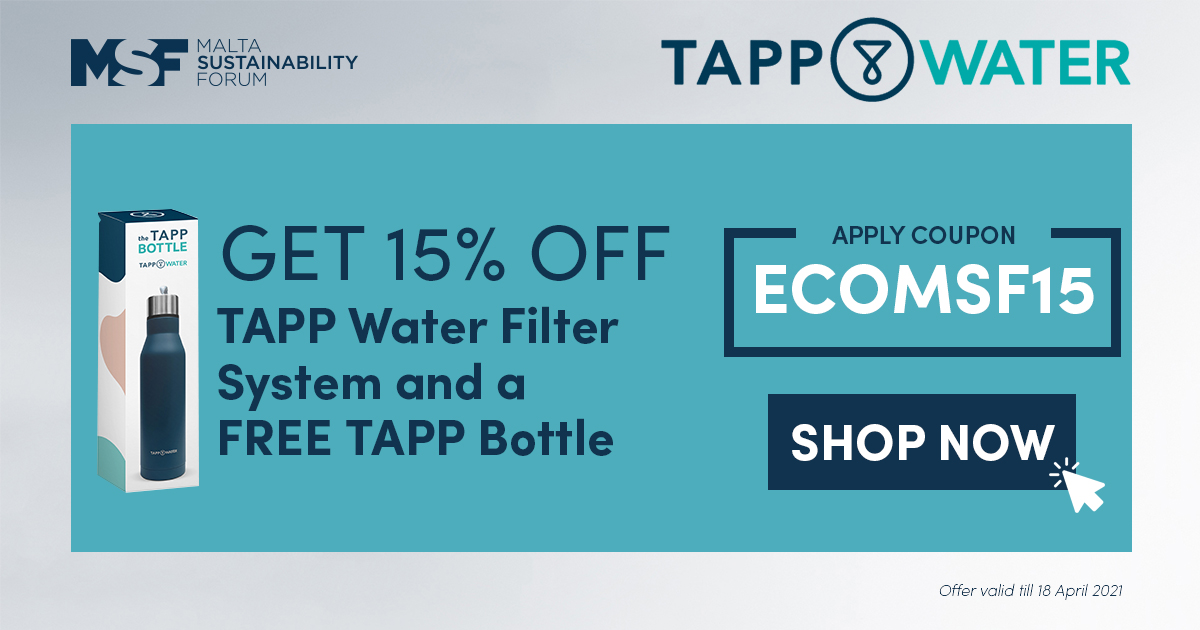 With the MYTAPP app on your smartphone you can easily see how much CO2, water, plastic bottles and money you have saved and you get reminders when to change the filters.
The TAPP 1s Shower filter means you can say goodbye to brittle hair and itchy skin. The KDF-55 technology in the filter is the only independently tested shower filter system available today.
Both the TAPP 2 TWIST home water filter system and the TAPP 1s Shower water filter are easy to install yourself and have a 45 day guarantee, a full refund if you are unsatisfied in any way.
TAPP Water's mission in Malta is to have 10,000 households using TAPP for drinking water by 2023 which means 10 Million plastic bottles a year would never be used, or end up on our beaches, in our seas or unsustainably disposed of in landfill or incinerators.
Join the mission today – and get your FREE TAPP Bottle with 15% discount.
*Offer valid till 18 April 2021