Challenges of transportation and congestion are a global problem, but in Malta, where we have the 2nd highest amount of cars per capita in Europe, the problem is even greater as we are heavily reliant on our private vehicles for transportation. Do you think of the impact on the environment every time you jump into your car? Have you ever thought about how your mode of transportation can be more sustainable? Claire Ciancio, Founder and CEO of Greenroads Limited and Camille Bon, Manager at Project Aegle Foundation have been invited to highlight alternative solutions for more sustainable transportation.
How do Greenroads Limited and Project Aegle Foundation play a role in sustainable transportation in Malta?
PAF and Greenroads are both working within the area of sustainable mobility. Our shared mission is to enhance quality of life by seeking solutions to alleviate environmental, social and health impact brought about by the current culture.
PAF is a non-profit organisation which in collaboration with others design pilot projects and research, encouraging public awareness and engagement, whilst targeting accessibility, safety and mobility justice and the design safe routes to school for the Naxxar Primary Schools.
Greenroads is a socio-environmentally conscious company which drives sustainable and environmentally-conscious mobility solutions, including future mobility modes, mobility safety, smart connected cities, as well as simulation and analysis.
Our joint current project includes the citizen engagement initiative, www.Greentrips.eu
PAF also leads the EIT Urban Mobility RIS Hub Malta, in partnership with MCAST and the Valletta Design Cluster. Our mission is to encourage positive initiatives in the mobility eco-system and develop opportunities for local players representing industry, academia, research, and local authorities.
What are the benefits of having more sustainable transportation in Malta?
Every individual, from kids to elderly, should be able to access an affordable and efficient choice of transport mode. A sustainable mobility system allows the basic access needs of individuals to be met safely with low impact on the environment and on people's health.
One size fits all is not a solution. People have different abilities and preferences. A lot of us tend to think of bicycles or electric cars when we think of sustainable transport. The truth is that not everyone has the physical or financial ability to own or ride such means of transport. It is good to be aware of the transport menu in Malta and make a conscious choice every time we travel from one place to another. Today, we even have a wide choice of transport in Malta. Apart from the widely used tal-linja public transport, there are a number of shared modes like: bike and scooter rentals, taxi sharing, ferry service and for when a car is strictly necessary shared electric vehicle rentals.
Using other modes of transportation instead of using private cars means less cars on the road which means less traffic and shorter commuting times. Most of the road accidents are caused by cars, the impact of a metal box moving at a fast speed is certainly more dangerous so reducing the number of cars on the road and keeping speed low increases road safety. Space in Malta is limited so less cars driving at the same time means less need for wider roads and more space for life.
There are also ample health and mental benefits of using active modes of transportation such as walking and cycling. We are all more human when we are not driving. It's good to use the time travelling from A to B to stay grounded and in touch with the society and environment we live in.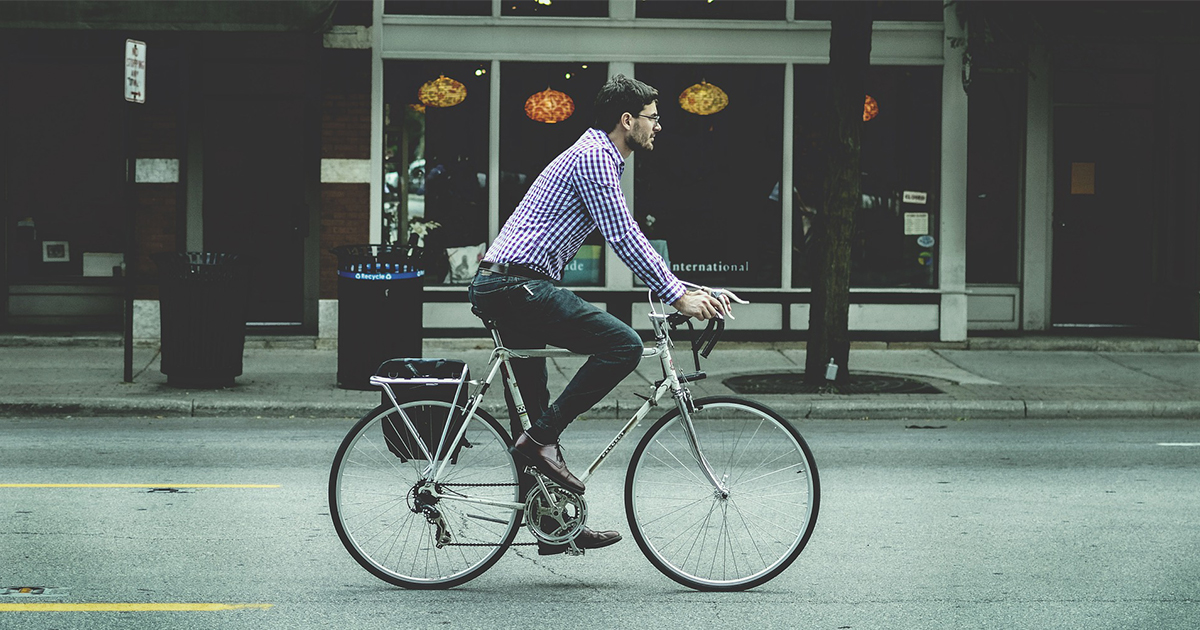 Do you think the Maltese population is conscious of the harm transportation does to the environment?
In general, we tend to get by and among our busy lives drastically underestimate the long term effects of our travel habits on the environment, society and health. Malta is facing high traffic volume, parking shortage, environmental conditions and public health concerns attributable to CO2 emissions and other pollutants from transport. Those are linked to massive costs for the Maltese economy and general well-being of the population.
Buying an electric car does not offer a guilt free pass. Mining for precious material and production have significant environmental costs. Leaving the car parked for most of the time and travelling alone as we please is a mere distraction from what we should be doing. And guess what, if we had to replace all old cars with electric we will still be stuck in traffic jams. Electric cars still need to be charged and rely on the resources supplying our national grid.
If we do not move away from the private car, in a densely populated place like Malta the only space in between buildings will need to be dedicated to roads.
What is the role of technology in helping to create greener roads?
Technology is a useful tool to learn, connect with others who have similar interests, voice suggestions and coordinate joint efforts. There are various online and mobile solutions that allow us to find solutions which are better than driving alone in our car.
Are there any ongoing initiatives to encourage a behavioural shift towards sustainable mobility?
Yes, Greentrips 🙂 It started as an online initiative to reward citizens who opt to walk, cycle or use alternative means of transport rather than their cars. We then expanded the platform to accommodate a larger community and create bigger change. We wanted to give a voice to the citizens and residents. On Greentrips, everyone has the opportunity to get involved in mobility topics, share their experiences, concerns and recommendations on certain modes of transport and what they would like to see in their localities.
Email us on hello@greentrips.eu to add more information.
What can people tangibly do to start adopting sustainable transportation practices?
The best is to literally avoid the commute altogether, this can be done by doing local errands and walking instead of driving. If this distance is far it makes sense to combine errands and do all the traveling at one go. The key is to avoid driving alone in your car. Ask: Is this trip really necessary? Can I share your ride, cycle or walk instead?
Jumping in your car should not be your first and only option in mind when to move from point A to B. It's all about adapting your mode of transportation to your commutes. You can choose to walk your children to school, use a shared mode of transport for the regular journeys (like going to work), take the bus to go to Valletta, walk or cycle for local errands… and only use your car as a last resort. Over the past years, we have seen a growing number of new mobility services. Alternatives to cars are becoming more reliable and convenient in Malta. So a good start would be to analyse your travel and start investigating the different mobility options. You can also be more vocal about your needs and concerns on mobility. This will help shape the mobility vision for Malta. You can do this on Greentrips.
If you are interested in learning more about this topic, watch our session dedicated to 'Pitching for GOOD' organised during the Malta Sustainability Forum where both Claire Ciancio and Camille Bon discussed the need for more sustainable mobility solutions.