Many of us live a very hectic life. Sometimes when we get hungry or have cravings, we nibble on all the wrong foods such as crisps and chocolates. Here are some healthy snacks which you can prepare during the weekend and enjoy throughout the week, packed with healthy nutrients, plant based, and perfect to eat on the go!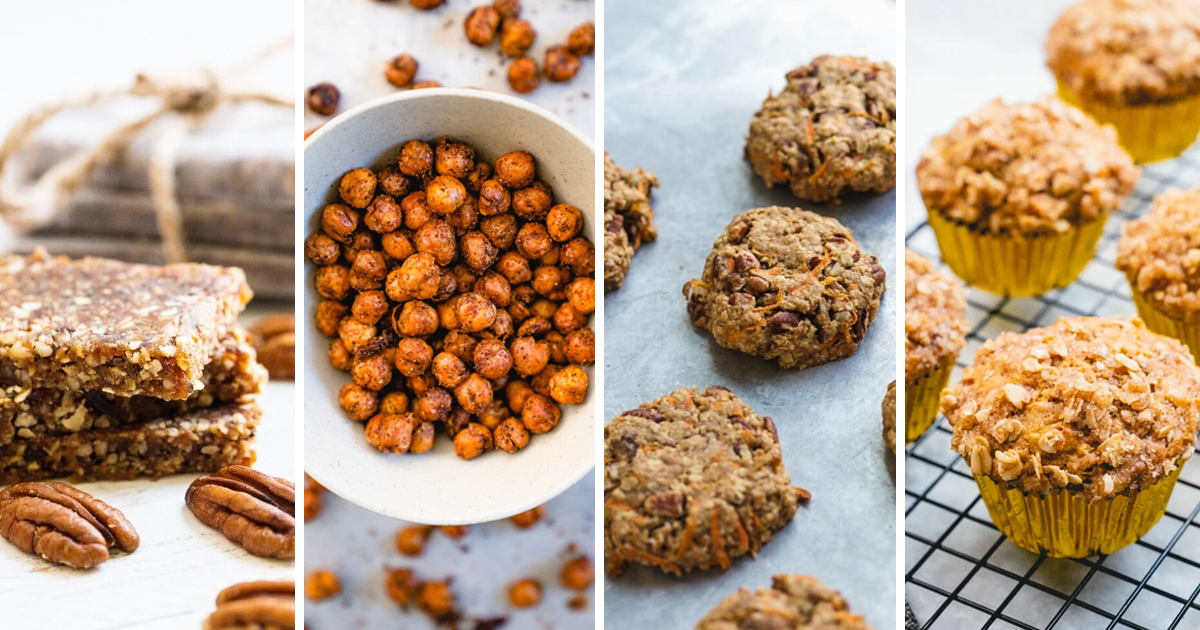 Ingredients (Makes x14 bars)
15 Medjool dates (9 ounces)
1 cup raw pecan halves
½ cup gluten free oats
1 tablespoon chia seeds
1 teaspoon vanilla extract
½ teaspoon cinnamon
¼ teaspoon kosher salt
Instructions
Preheat the oven to 100°C.
Remove the pits from the dates and place the dates in the food processor. Process or pulse until they are mainly chopped and a rough texture forms.
Add the remaining ingredients and process for a minute or so until a crumbly dough forms.
Line a baking sheet with parchment paper. Place the dough into the centre of the parchment paper and use a rolling pin to roll it into a rectangle that is 15x25cm. Cut the dough into 14 bars.
Bake the bars for 30 minutes (this step helps to make the texture more dry and less sticky).
Cool the bars to room temperature, then store refrigerated in a sealed container between sheets of wax paper.
Ingredients
2 large cans chickpeas
2 tablespoons olive oil
1 ½ teaspoons chili powder
1 teaspoon black pepper
1 teaspoon cumin
½ teaspoon smoked paprika
¾ teaspoon kosher salt
Instructions
Preheat oven to 190°C.
Rinse and drain the chickpeas, removing as much water as possible. Place them on a towel and pat gently to dry. Place another towel on top, then use your hands to rub the chickpeas and remove as many of the chickpea skins as possible. Try to remove most of the skins but doesn't matter if some remain.
In a medium bowl, stir together chickpeas with the olive oil, chili powder, black pepper, cumin, smoked paprika, and kosher salt.
Line a baking sheet with baking paper and spread them into a single layer. Bake for about 45 to 60 minutes until crispy and dry, shaking the baking sheet every 15 minutes. The cooking time may vary depending on your over and the brand of chickpeas. Watch them closely in the final minutes and remove when the chickpeas are browned but before they become very dark and hard.
Allow to cool for about 10 minutes before storing; the chickpeas will crisp up even more as they cool. Store in an airtight container in a dry cupboard for up to 1 week.
Ingredients (makes x10 large cookies)
1 cup quick-cooking oats*
1 cup whole wheat flour
1 teaspoon baking powder
1 teaspoon ground cinnamon
½ teaspoon fine sea salt
¼ teaspoon ground ginger
1 ½ cups peeled grated carrots (about 220gr)
1 cup roughly chopped raw pecans or walnuts
¼ cup golden raisins
½ cup maple syrup
½ cup melted refined coconut oil
Instructions
Preheat the oven to 190°C. Line a large baking sheet with parchment paper.
Combine the oats, flour, baking powder, cinnamon, salt, and ginger in a large bowl. Add the carrots, pecans (walnuts), and raisins and stir to combine.
In a separate bowl, whisk the maple syrup and coconut oil until blended. Pour the liquid mixture into the flour mixture and stir until just combined. The dough may remain rather wet, but this is ok.
Drop 1/4-cup scoops of the mixture onto the prepared baking sheet (you can use an ice cream scoop for this), leaving space around each one. Gently flatten each cookie to about 2cm thick using the palm of your hand.
Place in the oven and bake until the cookies are golden and firm around the edges, 15 to 17 minutes.
Cool the cookies on the baking sheet on a cooling rack for 10 minutes, then carefully transfer the cookies to the rack to cool completely (otherwise, the bottoms can brown too much). These breakfast cookies will keep, covered, at room temperature for up to 2 days, in the refrigerator for up to 5 days, and in the freezer for up to 3 months.
Ingredients (Makes x12)
1 ½ cups plus 2 tablespoons all-purpose flour, divided
¾ cup rolled oats, divided
1 tablespoon cinnamon, divided
1 teaspoon ginger
2 teaspoons baking powder
1 teaspoon baking soda
½ teaspoon kosher salt
½ cup maple syrup
1 ½ cups mashed banana (about 3 large or 4 medium)
½ cup refined coconut oil, half melted and half room temperature
1 tablespoon vanilla extract
1 tablespoon rum (optional)
¼ cup brown sugar
Instructions
Preheat the oven to 175°C.
Add 12 muffin cups to a muffin tin.
In a medium bowl, mix the 1½ cups all-purpose flour, ½ cup rolled oats, and 2 teaspoons cinnamon with the ginger, baking powder, baking soda, and kosher salt.
Melt ¼ cup coconut oil with the maple syrup. In another bowl, combine the maple syrup and coconut oil mixture with the mashed banana, vanilla, and rum (optional).
Mix the wet ingredients into the dry ingredients and stir until a smooth batter forms.
In another medium bowl, add the remaining ¼ cup rolled oats, 2 tablespoons flour, and 1 teaspoon cinnamon along with the brown sugar and ¼ cup room temperature coconut oil. Use a fork to mash the coconut oil into the remaining ingredients till it is evenly combined and a crumbly streusel topping forms.
Divide the batter evenly into the 12 muffin cups. Then top with a thin layer of streusel.
Bake for about 25 to 30 minutes, until a toothpick comes out. Allow to cool in the pan for 5 minutes, then remove the muffins and place them on a cooling rack to fully cool.
Source: Overhiser, 2021, 20+ Plant Based & Vegan Snacks, https://www.acouplecooks.com/best-plant-based-vegan-snacks/ [Accessed 24 September 2021].
The information contained herein is for general information purposes only. APS Bank plc will not be held responsible or liable in any manner for any of the information contained herein. While APS Bank plc has made every attempt to ensure that the information contained herein has been obtained from reliable sources, APS Bank plc will not be held responsible for any errors, omissions or inaccuracy, or for the results obtained from the use of this information. The primary purpose of these articles is to educate and inform. These articles do not constitute legal, medical or professional advice or service.